Oil Change Service near Roseville, CA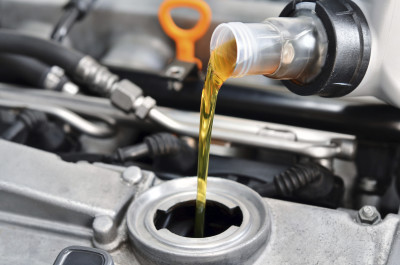 It's important to stay up to date on routine vehicle maintenance, especially oil change services! Dick Campagni's Capital Ford is your one-stop shop for all of your vehicle needs. Come see us to today during our flexible business hours and we will have you back on the road in no time! What are you waiting for?
Just like we need food, water, and maybe an occasional coffee from Café Bella to keep us going strong, our cars need oil to keep running smoothly! Over time, your vehicle's oil accumulates dirt and debris. If you continue to drive past due for an oil change, this build-up can get into your vehicle's engine and cause it to get too hot! Ultimately, if this goes on for too long, your engine will end up completely ruined which is a way bigger hassle than just dropping by our service bay for a quick and easy oil swap!
If you're unsure when the last time you had your oil changed, there's a few warning signs you can look for. If your car has been making unusual noises or receiving poor gas mileage, what your vehicle is really trying to tell you is that it needs new oil! You can also check your oil at home. If you do, you'll want to take notice of the oil's color. Healthy oil is clear and golden! Bad oil is dirty looking and can even turn completely black. If you've checked your oil and this is the case, don't stress yet! There's still time!
When you're in a hurry, we make things as fast and convenient as possible for our customers. To reserve a time slot right here on our website, simply head on over to the Service tab and fill out the Schedule an Appointment form! It's that easy. We have a fully staffed Service Department, so if you're in need of a tire rotation, windshield wiper replacement, or any other vehicle maintenance service let us know! Make sure to check out our Service Specials located under the Service tab as well to see all the ways we help you save!
Is it time for an oil change service near Roseville, CA? Stop by Dick Campagni's Capital Ford today, located at 3660 S. Carson St. in Carson City, NV. We look forward to meeting you soon!

Testimonials
Their customer service was AMAZING!!!
1-27-2020
"I am very pleased...."
10-30-2019
Always welcoming....
10-31-2019
Excellent
10-26-2019
Friendly Service
11-5-2019
I will be back....
11-5-2019
I am Amazed
11-1-2019
All in One Morning
11-11-2019
Great Deal
11-11-2019
Outstanding Service
11-7-2019
Great Place
11-13-2019
Service is Outstanding
11-28-2019
"Fixed Right, First Time" Repair
11-26-2019
Really Good Guy
12-4-2019
Great experience!
12-4-2019
Trusted Dealership
12-4-2019
Thank you!
12-11-2019
Best Buying Experience Ever
12-12-2019
Very nice place to wait...
11-18-2019
Staff was very friendly
11-12-2019
Read More